ASK the Lord of the harvest.....
ASK THE LORD OF THE HARVEST
Yesterday at our Amesbury site, after almost three months of meeting on a Sundays post lockdown, we reviewed where we are and what we believe God is calling us into.
JESUS: "The harvest is plentiful but the workers are few. ASK the Lord of the harvest, therefore, to send out workers into the harvest field" Matthew 9 v 37
The words of Jesus, as always are so helpful and instructive. He tells us three things that were true, 2,000 years ago, and are true today.
( 1 ) The harvest is plentiful
Jesus is talking here of PEOPLE that don't know God.
There are literally thousands and thousands of people in Amesbury that don't know Jesus as their saviour, Lord and friend. There's no problem or shortage with the harvest. The harvest is plentiful.
( 2 ) The workers are few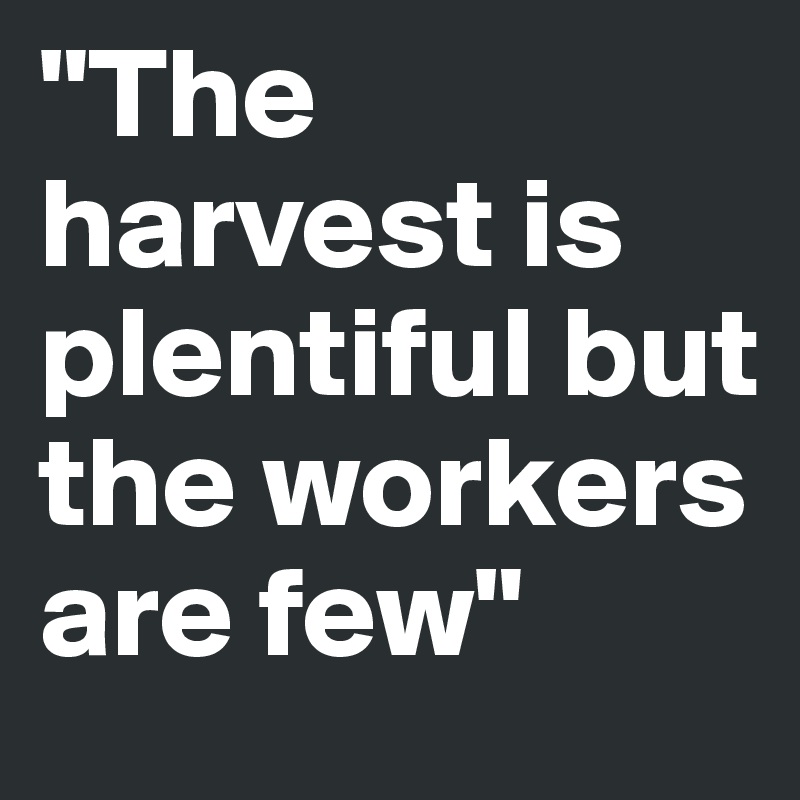 One commentator researching post-lockdown church said: "people are returning but showing up less frequently. Before a congregation of 150 meant 100ish on a given Sunday, now its maybe 75. 10% have left, 10% have moved church, 10% aren't back yet and the rest show up less often. In addition, less people are volunteering to do less things"
A four-word summary, could be "the workers are few".
We are finding the same in Amesbury.
Some have moved, towns or even countries, some have moved to other churches, some aren't going to church at all.
It means the Amesbury site is smaller and more stretched than ever before........ and so we want to say a HUGE thank you to all those that are serving God so amazingly well in Amesbury, giving of themselves to serve God and His church.
So, what did Jesus say we are to do about a lack of workers, and the current workers being over-stretched?
( 3 ) ASK



Ask. Ask the Lord of the harvest for more workers. Come before God, and pray….ask Him.
The Message says it this way: "On your knees and ask for harvest hands".
And so that's what we did yesterday in our Amesbury meeting. We asked the Lord of the harvest to send more workers.
In particular to boost our Sunday meetings. So that our rotas aren't so stretched, and so that it is an environment that new people (whether believers or not yet believers) can come to and stick, join and grow with us.
We asked for worship leaders, musicians, children's workers, evangelists……. workers….. that we may see a great harvest in Amesbury and see the kingdom of God grow.
As part of following this command of Jesus, we are calling a Day of Prayer and Fasting for Amesbury tomorrow (Tuesday 19th October).


Fasting is not a hunger strike (!!), but rather is saying to God: "I want an answer to prayer more than I want food". Jesus himself fasted and calls his followers to do likewise.
I'd like to encourage everyone, where health allows, to consider missing one meal (or more) to set aside to ASK God for more workers for the Amesbury site.
To help us in this, we will have THREE opportunities to pray on zoom, each for 30 minutes. All, regardless, whether you are in the Salisbury or Amesbury site, are more than welcome to join:
8am
12.30pm
6pm – do feel free to bring the family
Here are the zoom details.
https://us02web.zoom.us/j/86924601815...
Meeting ID: 869 2460 1815
Passcode: 036661
As elders, and then as Amesbury Team Leaders that met recently, we have FAITH that God will provide as we pray. We remember the word God gave us before we became a multi-site church, of a bloomer loaf of bread that was cut into two (Salisbury & Amesbury) put in the oven with both growing.
We're also reminded of the parable Jesus told in Luke 13 v 6 – 9, where the fig-tree wasn't bearing as much fruit as hoped. Rather than just chopping it down, Jesus advocates giving it care and attention. He says to dig round it and fertilise it, and then if it still doesn't bear fruit then do something more drastic….. but not yet!!
We want to 'dig round it' and fertilise' the Amesbury site. To ask God to move mightily, to ask him for workers and for fruit, before we review things at the beginning of next year.

Let's believe God, let's ASK the Lord of the harvest and see great things in Amesbury, for the Glory of God.
Much grace,
Simon
P.S Hope to see you at one of the zoom 30 minutes of prayer on Tuesday @ 8am, 12.30pm or 6pm